As March Madness is winding down, we first want to say congratulations to our friends down Lancaster Ave. Villanova. It has been an amazing season for Jay Wright and his Wildcats, and we wish them all the best. Now that the Hawks season is over, it is time to reflect. Many called this most exciting time on Hawk Hill since the team went undefeated. I could not agree more with that statement. Not only did Phil Martelli's crew exceed expectations in the win column, but they also made their own little run in March. We can truly tip our caps to a magical season for SJU.
Whether or not DeAndre Bembry stays on Hawk Hill is in the back of everyone's mind. Bembry led the Hawks to one of the best seasons around for a player and a team. Nobody expected the A-10 POY to actually take his team to the tournament. As most would agree Bemby is the best player in the A-10, however there were questions about his ability to get his team to win. After this season, those questions were thrown to the wayside. Bembry with help from his senior teammates; Miles, Brown, and Papa gave Hawk Hill what they needed. Besides the great play by Bembry, the seniors truly stepped up their game. Whether it was Papa's amazing performance in the A-10 tournament or Miles big 3 against Cincinnati, the team was always ready to play. Every single one of the players on SJU needs to hold their heads up high, they provided the excitement that has been missing from Hawk Hill.
For a senior getting ready to graduate, I thank the Hawks for making my final year on Hawk Hill exciting. Over four years I saw some heartbreaking moments by this team, but this season was different. Every single moment on the court was exciting to watch. Though I do wish the Hawks were able to pull off a miracle against Oregon, I can say they impressed a lot of people. I will say this a lot of people are saying even if DeAndre stays the team won't have a good season next year. I disagree, this team can and will make a run next season. Just wait and watch Captain Bembry lead his team to victory once more.
-Brett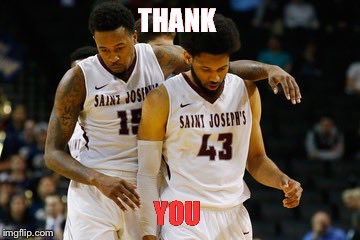 -----------------------------------------------------------------------------------------------------------------------------