There is no denying that Freddy Galvis has played unbelievable this season. The 25-year-old shortstop has been playing out of his mind as of late. The young Galvis has not been that productive during his time with the Phillies, however now he is proving to be one of the most valuable players on the roster.
After the Phillies moved Rollins, there were questions whether or not Galvis would be able to step in. Galvis has not only surprised Phillies fans, but also baseball experts everywhere. This Freddy Galvis is not the same player we have seen over the last few seasons.
When looking at the success Galvis has had this season, people are now questioning how or why this is happening. Freddy Galvis is a completely different player this season; he is performing like a young Jimmy Rollins. There are several different reasons why Galvis has had so much more success this season. The main reason is his approach has changed. When looking at past videos of Galvis and how he approached the plate you can see distinct parallels between this season and prior. Galvis is approaching each at bat with the viewpoint to slap the ball. Rather then in the past when he would try to drive the ball and hit for power, the Phillies shortstop is getting on base. He now takes each at bat as a chance to get on base and do his job. Galvis is not a player that will knock in RBI's nor hit home-runs, his job is to get in scoring position.

With this new approach Freddy Galvis has been able to basically reinvent himself. The shortstop that everyone saw struggle, now has great potential. He has proven that he has a unique skill and ability that is needed on this Phillies team. Though his hits are mainly singles, Galvis is doing his job, with an unbelievable average of .353. If Galvis can keep up his tear there is no doubt that he will be the Phillies All-Star this season. The ability Freddy Galvis has emulated his favorite player and idol Omar Vizquel. If Galvis turns into half the player Vizquel was the Phillies are in luck.
-Brett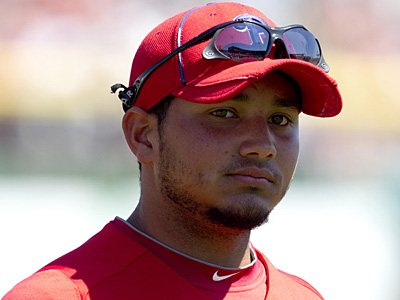 -----------------------------------------------------------------------------------------------------------------------------